Exhibitors
Take part in one of Houston's largest marketing opportunities
2019 Vendor Registration NOW OPEN
Want to be a #HouPop vendor?
If you would like to be a vendor in the HouPop zone inside Anime Matsuri for 2019 you must meet the following criteria:
You must not have been a vendor for Anime Matsuri within the last three years. If you have been a vendor for AM within the past three years and are looking for space contact them directly. (We are attracting new vendors in the HouPop Zone)

Please note HouPop prices are the same as Anime Matsuri and that Anime Matsuri will be processing any and all payments. You are not going to get a "better deal" by approaching the HouPop vendor team. All of our prices are the same!

Fill out the form located on the following link and we will contact you: http://houpop.com/vendor-form
What do i get?
Exhibit Booths consist of a 10′ x 10′ area, an 8′ x 30" table (2 for End Caps), 2 chairs, tablecloth/skirting and (2) Exhibitor badges per booth. Additional badges may be purchased for $50 each.
What booth sizes are available?
10'x10′  /  10'x20′  /  20'x20′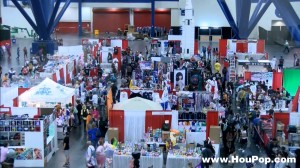 Event Date
June 14th-16th 2019
Times
Exhibit Hall Hours are as follows:
FRIDAY, June 14:      11:30 AM – 7:00 PM
SATURDAY, June 15: 9:30 AM – 7:00 PM
SUNDAY, June 16:      9:30 AM – 4:00 PM
Set Up Time
Dealers may setup between 12PM-11PM on Thursday, June 13th 2019. Please schedule an appointment to unload with our Exhibitor Hall Coordinator.
Booth registrations will be a first come first serve basis; Full payment is required upon contract.
For all other inquiries, please email Vendor Relations at info@houpop.com